Metal Halide Lamps
DESCRIPTION
SPECIFICATION
Factory Direct Sale good quality E40 400 watt 1000 watt metal halide bulb

● Using imported inner container
● High luminous efficiency、good performance of color rendering、long life .
● High color rendering index, nearly daylight colour energy saving new light source,can produce comfortable lighting environment.
● Lamp bracket with the upper and lower double shocking proof shrapnel,can prevent the concussion caused stent fracture and inner tank damage.
● Special ultraviolet rays glass bushing,effective absorption of 99% ultraviolet rays.
● CWA Lighting circuit,high power factor,less influenced by mains voltage fluctuation,small starting current more suitable for mobile generator sets.
● It is suitable for industrial building lighting, urban flood lighting, especially for mobile lighting tower.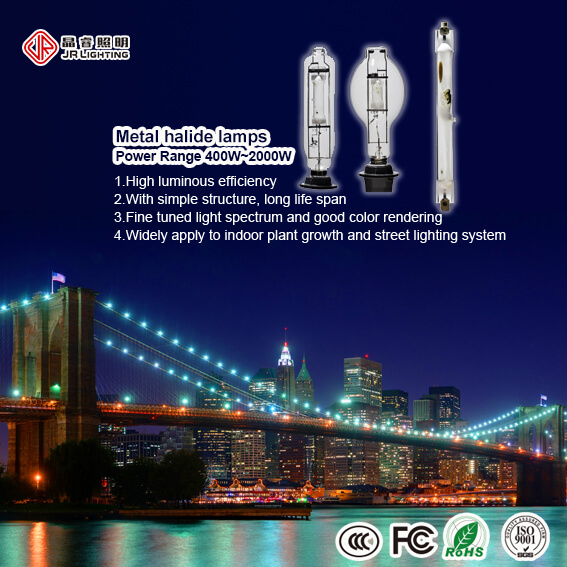 Model No.

Rated power
(W)

Lamp
current(A)

Lamp
voltage(V)

Initial
Lumen(Lm)

CCT(K)

CRI(Ra)

max.D
(mm)

max.L
(mm)

Base

Avg.Life
(H)

Ballast type

Capacitor
(uF)

MH400W-BT

400

3.25

135

36000

4000

65

122

292

E39/E40

10000

MH400L

26/540VAC

MH400W-TT

400

3.25

135

36000

4000

65

65

275

E39/E40

10000

MH400L

26/540VAC

HIT400W-TT

400

3.4

125

36000

4000

65

65

275

E39/E40

10000

MHB400Z

30/540VAC

MH1000W-BT

1000

4.1

263

110000

5000

65

182

390

E39/E40

10000

MH1000L

28/540VAC

MH1000W-BT

1000

4.1

263

110000

4000

65

120

292

E39/E40

10000

MH1000L

28/540VAC

MH1100W-BT

1100

4.5

263

121000

4000

65

120

292

E39/E40

6000

MH1000L

24/540VAC

MH1250W-BT

1250

5.1

263

150000

4000

65

120

292

E39/E40

6000

MH1250L

26/540VAC

MH1000W-TT

1000

4.1

263

110000

5000

65

75

335

E39/E40

10000

MH1000L

28/540VAC

HIT1000W-TT

1000

8.25

130

100000

6000

65

75

335

E39/E40

10000

MHB1000Z

90/540VAC